Ask has made some pretty significant changes over the last year and a half. First they got rid of the butler and now they have gone 3D.
This new three dimensional version not only includes a major overhaul of the home page as well as the way search results appear, they have also added a laundry list of new features and resources.
The company is calling this release as a "major leap forward" for search which includes a bold three-panel interface (taken from the experimental Ask X) that integrates more multimedia content, including images, videos, music files, as well as more structured text-based content.
In announcing this new version of Ask, they have the following to say:
For the past several years, we have been innovating furiously to provide people with a faster, easier, and richer search experience. We've created products that go some way towards this – Smart Answers, Zoom related search, Binoculars, AskCity, and ExpertRank (aka Teoma) to name a few. Over time, however, the challenge for searching the Web has grown hugely, and the sheer amount of stuff out there is mind boggling.

Today, our search experience is taking a consequential leap forward in making all that information accessible in a coherent way, with the launch of Ask3D, a completely re-engineered version of Ask.com. No, you don't need red and blue glasses to see it. 3D stands for the three dimensions of searching – query expression, investigating results, and digging deeply into content. You used to have to visit three different pages or websites to see and search through each dimension. With Ask3D, you can now get everything you need on one page…in many cases above the fold.
The Home Page
The home page itself includes a much cleaner interface which you can customize with your own skins. There of course is the search box itself with options of searching the web, images, Ask City, news, blogs and then an arrow which opens an Ajax function revealing three more options – video, maps & directions and shopping.
Here is how the search functions look like by default.



Here is how it appears when you select the arrow to the right. The Ajax function certainly looks like they could add additional features down the road.

Apply one of ten available skins and it looks like this.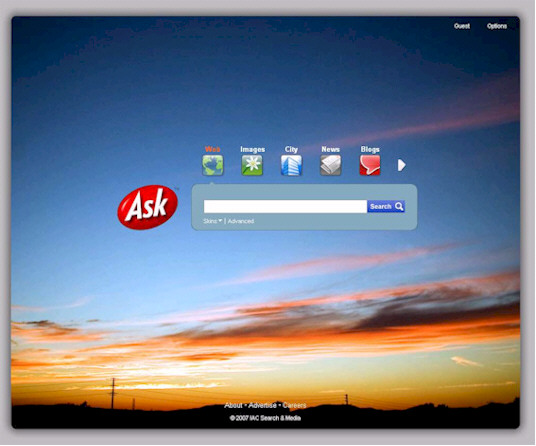 The home page also provides two links at the top right of the page – Guest and Options. Guest (which I assume would change to your own name if you were to sign in) allows you to view recent searches, saved results, my folders, my tags or go to "MyStuff." Options opens up a box that allows you pre-define your location, adjust results settings, decide whether you want results filtered or not, access MyStuff settings and MyProfile settings.
The Search Results
If the home page isn't cool enough, you'll be presented with a three dimensional set of results when performing a search query. There is a left pane that places the search function on top of additional lists such as "Narrow Your Search," "Expand Your Search" or even "Related Names."
The middle pane includes the organic results as well as any sponsored ads that appear for your search query. A right pane will show multimedia items such as images, video or audio tracks. You may also see current news, blog related items, dictionary references, shopping resources and even an Wikipedia encyclopedia listing.
For example, here is what a search for "John McCain" looks like.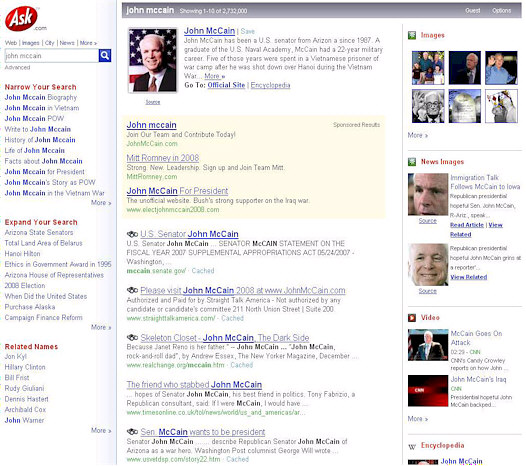 Search for a popular music group such as "Jars of Clay" and you may see Popular Tracks listed in the right pane of which will play a preview as soon as you click on them. A search for "pirates" produced Shopping options in the right pane as well a a Dictionary reference to the word "pirates." Finally, a search for "Arizona" produces even more features in the right pane including Maps and Weather information. I'm sure I could go on and on.
There is certainly more new features than can be covered in a single blog post. Ask provides more information on all the various features of the site if you care to learn about them. Or just use Ask3D and explore all the possibilities. I found it exciting to test various searches simply to see all the various options, al of which are displayed in a way that is not cumbersome in any way but very clean and easy to use.
What About Ask's Market Share?
The question everyone is asking, at least those that are somehow involved in the industry of search, "Will this increase their market share?" I certainly hope so as I have always liked Ask. According to the latest comScore search engine market share report release in May 2007, Ask was in fifth place behind AOL with a paltry 1.01%. Compare that to Google's 51.71%. Keep in mind however that if every 1% of the search market is worth $1 billion or more, then any increase in percentage can be a positive thing to Ask.