Most web site marketers wouldn't even consider such a question especially where Google can at times send 50% if not more of a web site's traffic. How about if you take Yahoo!, MSN and Ask out of the equation as well? Would your business have a chance of attracting traffic and succeeding if these engines were to send you zilch traffic?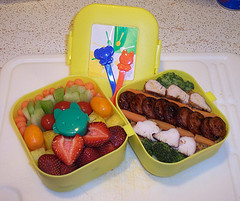 It is a bold adventure that Search Engine Guide editor, Jennifer Laycock has decided to take on with her "Hide and Speak: Google, We Don't Need No Stinkin' Google!" initiative. The plan is to effectively market and grow a new business without the help of the top four search engines. Jennifer wants to prove that a small business can succeed without search engine traffic.
"A common complaint of small business owners these days is how powerful Google is. A bad algorithm shift or a spidering problem can leave a small business on the verge of bankruptcy in a matter of a few months. While it's easy enough to tell people that they need to diversify and stop relying so heavily on Google, that can be hard for companies to put into action. That's why I decided to put myself and my marketing sense to the challenge once again with a new business and a new article series," Jennifer writes.
The business is called Bento Yum which sells Bento Box Starter Kits. What is a Bento Box anyway? Jennifer describes it like this:
Bento boxes are basically the Japanese version of a "boxed lunch" and in U.S. restaurants often feature sushi, veggies and rice. These days bento is catching on as a unique style of lunch packing that appeals to people interested in packing creative, healthy lunches that give automatic portion control and cut lunch bills.
Jennifer has dubbed this new series "Hide and Speak" because she will be keeping the site hidden from search engine spiders via robots.txt exclusion and will seek to market it by "speaking" to customers via links, blogs and communities.
This blog post is one example of how to get the word out on this new product offering. It will be an ongoing series so if you care to follow along, you'll get to see Jennifer play with WordPress for the first time, generate new content, and discover creative ways to market via a community. I'll be following along myself and wish her much success.