One of the key benefits of having an online web presence is that you have a global reach. Unlike a brick and mortar business which is only accessible by geographical location, a web site can be accessed by anyone in the world, so long as they themselves have Internet access.
However, what if you are primarily a "local" business? You may have global visibility but what you really need to survive is "local visibility." This post will look at some foundational steps a business can take to improve their visibility in local search.
On-Page Local Search Optimization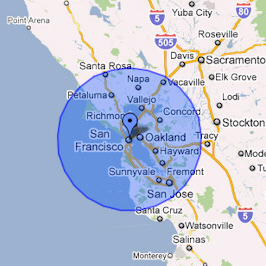 The first step is to make sure your web site includes important geo-related info. There are essentially four areas within your web site where geo-related information can be included.
1. Contact Us Page – Every site should include a way for visitors and especially potential customers to contact you. Most sites include some type of email contact form that allows users to submit their contact info along with the reason for their inquiry. At the same time, this page should include the business name, address, phone numbers and even a map image and/or "directions" link (link to direct Google Maps or other maps service search).
2. Footer – A site footer typically contains copyright info (i.e., Copyright © 2010. All rights reserved) but can also contain a set of textual links to internal pages. If your business consists of one location or at the very least some type of corporate headquarters, you can also include the physical address and main phone numbers of your business within the footer area. If your footer info is repeated throughout the site, there is now geo-related information on every page of the site.
3. Title Tags – I typically recommend thee following format for title tags:
<title>Keyword Phrase | Company or Brand Name</title>
In cases where the business is strictly local (i.e., restaurant, swimming pool service, landscaper, etc.), geo-realated information can be included in the title tag as well.
In this scenario a title tag may look like this:
<title>Keyword Phrase | Company or Brand Name – City, State</title>
This is only recommended for businesses that are strictly local and not businesses that have multiple locations and/or are more related to a national or even global scale.
That being said, if a site has specific pages dealing with geographical locations, such as a restaurant chain, then having geo-related information in the title tag is certainly advisable.
4. Body Copy – Finally, geo-related information can and should be included within the copy itself. For example, statements such as these can be made within the content areas of the site:
"Acme Company, located in Phoenix, Arizona, has been serving…"

"Acme Company provides service to the following areas: Phoenix, Arizona; Tucson, Arizona; …"

"Acme restaurant has established several stores in Arizona including Phoenix, Chandler, Tempe, …"
I think you get the idea. Again, this tactic is specifically geared towards those types of businesses that have one location or general service area and/or in cases where multiple locations exists, have multiple location-specific pages.
The Big Three
The next step is to ensure your business location is accurately represented in the big three search engines – Google, Bing and Yahoo!. If the business already has some type of local yellow page representation, then it is very likely it is also listed in the local indices of these search engines. It is then simply a matter of claiming the business and making sure al the information is up to date.
GetListed.org is an excellent free tool that allows you to manage your local listings on Google, Bing and Yahoo. Additionally the tool manages listings at Yelp and Best of the Web Local (listed later). Simply create an account and then use the "Check Listing" function to see how your business is represented.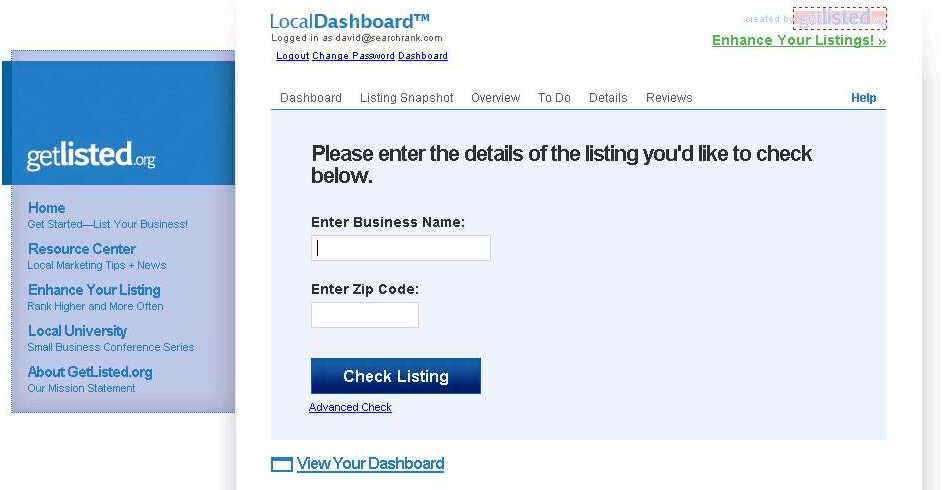 Enter the business name and zip code as shown above and you will then see the results listed as show below.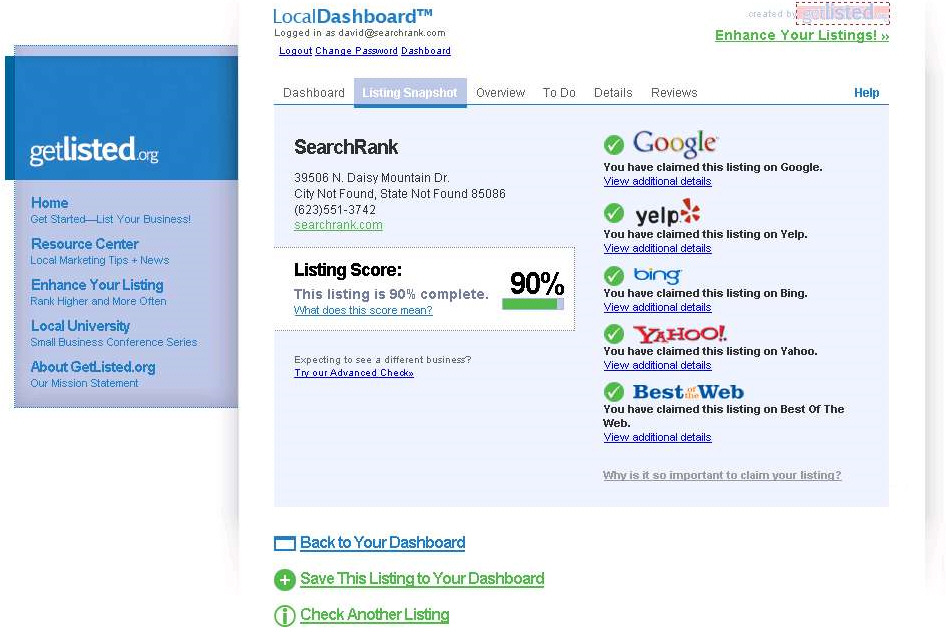 Updating a local listing on these search engines is pretty self explanatory. I would simply advise that you make sure to include correct address and contact info, a link to your web site, select appropriate business categories and provide a brief description. There are of course additional pieces of information you can include such as operating hours, photos, methods of payment, etc. What is chosen to include is at your own discretion – just make sure information is accurate.
If you choose not to use the GetListed.org tool, the specific URLs and instructions for each search engine are as follows:
1. Google – http://www.google.com/local/add/businessCenter
Navigate to URL listed above
If not already logged in, log into your Google account (or create one)
Click "Add New Listing" and follow instructions
If  your business is already listed in Google, you will have the option of claiming the current listing or adding the listing you just entered.  Google will then verify your listing by either calling the phone number that was entered in which all you simply have to do is answer the phone and type in the pin number listed on the screen or you can opt to have your listing verified by having Google send a postcard with your pin number to the location that was entered.
2. Bing – https://ssl.bing.com/listings/ListingCenter.aspx
Navigate to URL listed above
Click "Add New Listing" and follow instructions
Sign in with your Windows Live ID (or create one)
Like Google, if  your business is already listed, you will have the option to edit the current listing or adding the listing you just entered.  Bing will then verify your listing by either calling the phone number that was entered or sending a postcard with your pin number to the location that was entered.
3. Yahoo! – http://listings.local.yahoo.com/account/
Navigate to URL listed above
Sign in to your Yahoo! account (or create one)
Click "Create New Listings" and follow instructions
Again if the listing is already included in Yahoo!, you'll have the option of editing it or continuing to add the new listing. However, unlike Google and Bing, Yahoo! does not verify the listing either by telephone or postcard but does review the listing so that any changes and/or additions will not show up immediately. If I recall, the process takes anywhere from 2-4 weeks but they do send email confirmation once listing is either included or updated.
Additional Local Search Engines
While there are many local search engines, here is a list of top tier players. Most all of these have free listing options and then of course offer payment options to "enhance" the listing.
Best of the Web Local – http://local.botw.org
The local portion of Best of the Web, one of the oldest directories online. BOTW Local offers a free listing option as well as  BOTW Local Premium which provides your business with featured visibility and more detailed information that can drive additional users to your store.
Yelp.com – http://www.yelp.com
A very popular local information portal on the U.S. West Coast, and in certain industries across the rest of the country. If you are in the hospitality industry, especially restaurants, hotels and bars, it is essential to claim your profile on Yelp.
Brownbook – http://www.brownbook.net/business/add/
A free local business directory that anyone can edit. You can add business listings, update them, and review businesses free and instantly.
CitySearch.com – http://www.citysearch.com
CitySearch charges you to claim your business listing. It can be expensive but again, if you're in the hospitality industry, it's worth the investment to claim your listing.
infoUSA – http://dbupdate.infousa.com/dbupdate/startupdate
A major business directory whose data is used as a starting point by many local search engines. If you have a new business, or have moved addresses or changed phone numbers, it is essential to update your information with infoUSA.
InsiderPages.com – http://www.insiderpages.com
A local search site that is regularly crawled by Google. Many times reviews that are left for your business on Insiderpages will show up on Google. Unlike its parent company, Citysearch, Insiderpages lets you claim your listings for free.
MerchantCircle.com – http://www.merchantcircle.com
A social network of local business owners, combining social networking features with customizable web listings that allow local merchants to attract new customers. Includes reviews of local businesses
Local.com – http://www.local.com
A local search engine that effectively matches consumers with more than 16 million business listings that are easily accessible through Keyword DNA, Local.com's patent-pending natural language keyword search technology.
SuperPages.com – http://www.superpages.com
A top online resource for finding information and insights on businesses and retailers. Google and Yahoo often "double-check" Superpages.com to make sure they're showing correct business information.
YellowPages.com (AT&T) – http://www.yellowpages.com
Tedious Work But Well Worth the Effort
Making sure your business is accurately listed in all these as well as other local search engines can be a time consuming process but well worth the effort.Need some hand-holding in this area of Internet marketing? Then you might want to keep an eye out for GetListed.org Local University which is an informative four-hour crash course in the basics of internet marketing–and especially Local Search. The next date is June 30, 2010 in the Cleveland / Northeast Ohio area with Denver in September and Phoenix in the winter to follow.
Maybe you want to ensure your properly listed but just don't have the time? Check out our Local Search Marketing services page for options on how we can assist you in ensuring that you are getting the most out of your local search efforts.