Have you noticed any changes in the way Google search engine results pages look when searching for local businesses? They just announced today the closer integration of maps, address and contact info and even reviews of local business when they detect a local search query.
In fact, Google states that we will see this kind of information every time we search for a place, business, or other local information. In addition to providing the basic contact information and map locations for several choices at the top of the page, they will also show ratings and provide one-click access to reviews.
Here is an example of a search for "web design in Phoenix" –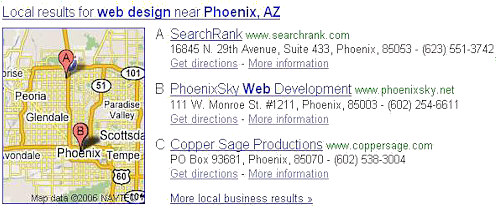 Look at who shows in first place! How about a search for "steak houses in phoenix" –
Notice the ratings as shown by colored stars as well as link to reviews. If you click on the "36 reviews" for Ruth's Chris Steak House (which is awesome), you will be taken to a list of reviews which seem to derive from sites offering reviews such as CitySearch, Judysbook, Insiderpages and more. Additionally you can get directions from your location as well as more information which essentially combines a map, address, reviews and web listings into one page.
So I can hear you asking, "How do I get my business to show up like this?" The Google Maps Help Section provides details. They claim to get their information from numerous websites, Yellow Pages directories, and other sources to populate Google Maps search results. However if you do not find your business in Google Maps, you can add it to their Local Business Center. That is how we got listed.
Additional things to consider include making sure your address and phone numbers are listed on your web pages such as in the footer section and if not on every page, at least on your contact and about us pages. Also having a local Yellow Page listing can help.