I came across an interesting article today at MarketingVOX regarding the tremendous growth of social media.
In the month of September, one out of every twenty U.S. Internet visits landed on one of the top 20 social-networking websites, nearly double the share of visits compared with a year ago. This according to a new study released by HitWise. Out of the twenty sites, MySpace is the undisputed leader receiving 82 percent of those visits. Not too much surprise there.
Other social networking sites with above-average growth in market share of visits were Bolt, up 271 percent; Bebo, up 95 percent; Orkut, up 63 percent; and Gaia Online, up 41 percent. The chart below shows the entire list of twenty sites in the study.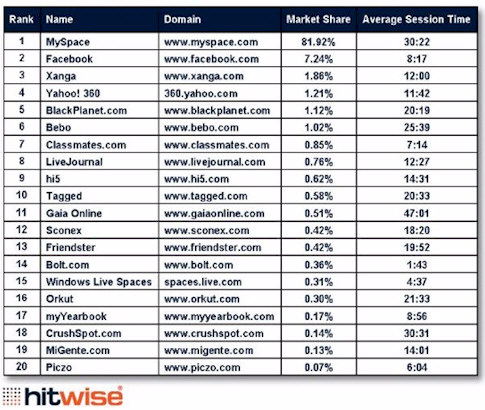 MarketingVOX also reports that photo-hosting and user-generated-video websites have grown their market share. The number of visits to the leading photo hosting website, PhotoBucket, increased 43 percent from March to September, while visits to community-oriented photography website Flickr increased by 49 percent and visits to YouTube were up 249 percent.
LeeAnn Prescott, director of research at Hitwise, makes the following statement:
"This report shows how influential the creation and consumption of user content has become as a web activity, and demonstrates its significance in driving web traffic to other categories. The use of social networking, photo hosting, and online video websites represent a significant shift in online user behavior, and Hitwise Clickstream data is particularly useful in understanding how these users are interacting with the web."
This tremendous growth in social media has a lot of marketers thinking about how they can leverage these type of sites to drive additional traffic to businesses. Whether purchasing advertising, creating company profiles, getting involved in the community aspect of these sites or all of the above, it is likely that social media sites will continue to attract more and more businesses who want a piece of the action. It is then the challenge of online marketers to discover new opportunities to drive traffic beyond traditional search.
Recently we set up the first MySpace profile for a customer at their own request. Could this become a trend where companies seek to set up profiles at social sites such as MySpace, Orkut, LinkedIn and others?
SearchRank already has profiles at MySpace, LinkedIn, Squidoo, Digg, and del.icio.us to name a few. This was done mostly for branding purposes but interestingly enough, the MySpace profile sent us 796 visitors in October. I'm not sure what resulted of those visits as it is not something we are paying too much attention to. However maybe that is something that will change very soon, not only for us but all companies doing business on the web. Only time will tell.