I can now say that we have been providing search marketing services for a decade. That's right, April 18th is the day that we celebrate as our birthday. At least it is the date where we obtained our first trade name and opened a business checking account here in Arizona.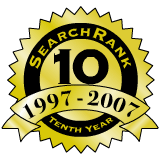 It has gone by fast and with many changes in the industry. We have been privileged to work with so many companies, both large and small and in so many different industries.
We also feel privileged to be part of history itself as search marketing was barely getting off the ground ten years ago. Google didn't even exist (they claim to have opened their doors in September of 1998), online social media consisted on chat rooms and online forums, and there were only a handful companies that actually offered services to market sites on the search engines.
Today, people no longer search, they "Google," social media is everywhere and there are literally tens of thousands of companies offering search marketing services.
A bit of history as to how SearchRank came to being. Our company was originally birthed out of an affiliate relationship to sell web sites that another company would develop. That company would hold seminars around the country signing up affiliates who could earn 35% off of every web site they sold. Additionally the affiliates would make 35% residual income from future web site updates and hosting fees.
For someone who didn't know the first thing about designing web sites at the time, it was a good mix – initially. However the web development company began to become more interested in signing up affiliates than actually developing web sites (they'd make anywhere from $80,000 – $250,000 per seminar). The time it would take to actually complete a site became longer and longer to the point where they were hardly productive at all. The turning point in my relationship with them came when the CEO fired his MIS Directory. Paranoid that the now fired employee would hack into their servers, the newly appointed MIS Directory pulled the plug on their domain name server, effectively bringing down all their sites. They were down for two weeks!
Fortunately, we had copies of the 6 or sites we had at that time and were able to locate another host quickly. The sites were restored within a day or so. from there I immediately learned how to design web sites myself, although looking back I can't say I'm proud of my early attempts. Of course along with design, we optimized sites for what we now call organic or natural search. Those early efforts proved to be very effective to driving search traffic to each site.
SearchRank itself was actually birthed out of the success we had with our local construction and home improvement portal – The Arizona Builders' Zone. In the latter part of 1999, we decided to launch a separate brand to focus specifically on our search marketing services. While searching for suitable domain names, to my surprise, searchrank.com was available and so we secured it, and launched it as its own brand.
As we did this, the whole world opened up to us. Before launching the SearchRank brand, most of our clients were comprised in Arizona with a few spread out in neighboring states. Soon after launching the SearchRank site, we were picking up clients not only throughout the United States but around the globe – Canada, United Kingdom, Bermuda and Malaysia to name a few.
Today we continue to expand our list of services to include all facets of search engine marketing – organic search, paid search, online PR, link popularity building, viral marketing, social media, etc. At the same time we are working harder on our own internal projects designed to bring in a steady stream of residual income.
It has been an awesome 10 years thus so far and our future looks bright. Many thanks to all present and past clients who have helped us to thrive ten years in this industry. I myself am also thankful for the many friends and colleagues that we have met over the years, from search marketers, affiliate marketers, web developers, programmers, bloggers, and the list goes on.
Happy birthday, SearchRank! May we not only have another great ten years but many more beyond.