Lee Odden is reporting that Marketing Sherpa has no plans to publish future guides to selecting SEO and SEM firms. They have been publishing the guides for the past five years, initially dealing with SEO but then later launching a separate guide for paid search.
Historically, the guides have not only listed firms offering SEO/SEM services but also provided practical advice on what search marketing is as well as advice on how to select a firm. Anne Holland confirmed that future guides would not be published due to the inherent difficulty in providing qualitative evaluations of each SEO and SEM service as well as the fact that they will be focusing more on their Benchmark Guides.
She provided the following comment on the Fathom SEO blog:
We decided to discontinue the line of Buyer's Guides this year because while the information was valuable, it wasn't precisely what customers wanted. They wanted ConsumerReports style verified ratings of each firm's performance. That's an impossible task for a technical service industry. So, this year we're retiring the line and considering ways to re-tool it so it's useful to customers as possible while keeping the data true and real. PLUS, for data hounds, we're broadening the scope of our annual Search Marketing Benchmark Guide (currently weighing in at more than 200 pages of stats) to include more firm info.
I will miss the guides. Although they were pricey for the consumer to buy, SEM firms such as ours were listed for free, so long as the criteria for being listed was met. Sure you had to answer a pretty lengthy questionnaire for each new guide but at the trade-off of getting a listing at no charge, how can one complain? I can also think of quite a few times where potential clients had contacted us due to the fact that they had found us in the guide.
Now that new guides will no longer be published, how will consumers shop SEO and SEM vendors?
First of all, consumers should be able to continue to use the last published guide for at least a year or two, providing that certain firms that are listed do not go out of business. Most of the companies listed have been around some time and will most likely continue to function. The information that may change might relate to the size companies, their service offerings, their clients, etc. However, the advice on selecting firms as well as the listings themselves should continue to be useful at least for some time.
As far as actually locating firms, you would think that one would simply "google" common search marketing phrases and then select the companies that appear first.
However, just because a company appears on the first page for a SEM related term does not guarantee they will be the best choice to conduct your search marketing effort. That is considering that you are even able to find actual companies. Take the keyword "SEO" for example. Here is what appears on the first page of results at the writing of this post: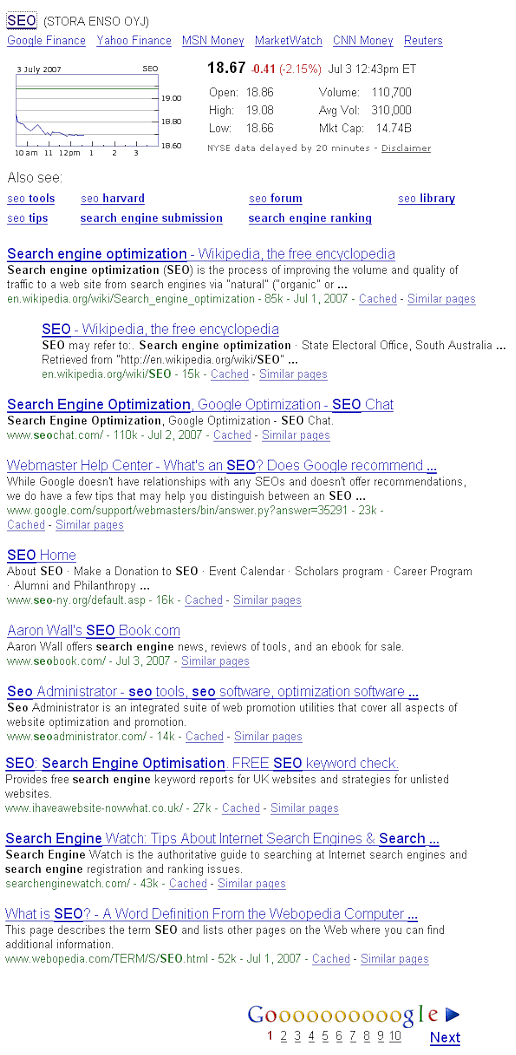 Not factoring in the paid search results, I get a stock quote, a couple of Wikipedia entries, an SEO forum, a Google webmaster help page, an SEO e-book, an SEO toolset, a search news site (Search Engine Watch), a definition of SEO and one company that appears to offer SEO services. No doubt I could use additional terms and get similar results. Therefore searching for them, may not offer the best option.
A more practical way to actually locate firms is to visit the two national search marketing association's members lists – SEMPO and SMA-NA. SEOmoz has also put together a list of recommended SEO and SEM firms. You might also find Business.com's Site Promotion and Yahoo!'s Internet Promotion categories useful.
While these may be practical ways to actually locate firms, the selection process can be quite a different story. While essential advice is to select a firm that you feel comfortable with, one that has been around for awhile and who you feel confident that they can accommodate your search marketing goals, I would also direct you to an article I authored some time ago entitled, "Look Before You Leap – What to Look For and Look Out For When Choosing an SEO/SEM Firm." It goes into detail of what to avoid as well as what to look for when selecting a SEO/SEM vendor.
Even though Marketing Sherpa will not be publishing future guides, you can still get the 2007 editions, one focusing on SEO and the other focusing on paid search (PPC). They run $199 each or purchase both for $249.