Here is a great visual guide to help local businesses learn how to rule the local search results. The complete infographic covers topics such as, "Why should I optimize for local," "Google+ local page optimization," "do's and don'ts regarding citations," "getting the right kind of reviews," "on-site optimization for local" and more.
While you can view the entire infographic at the end of this post, I thought I break out some of the more important tips in textual format for those few folks that still love to read articles. Here they are broken down by specific topics.
Google+ Local Page Optimization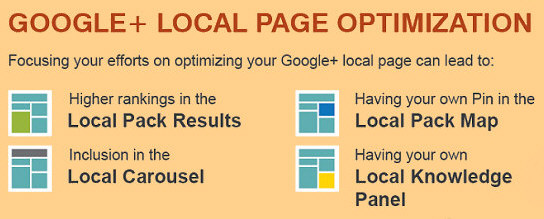 Do's
Verify your local page.
Make sure your company profile is 100% complete.
Use your official business name (make sure it matches on your website).
Create a detailed company description.
Make sure that the NAP (Name, Address, Phone) on your local page is consistent with the NAP on your company website. All of the web mentions of your business should be NAP consistent.
Have a physical address in the city you want to rank for.
If you list a mail box or suite number, place it in Address Line 2.
Select every relevant category you find for your business.
If you have a single location – link to the home page of your website.
If you have multiple locations – link to the location-specific page on your website.
Claim and delete all duplicate local pages of your business.
Encourage your customers to leave you local page reviews.
Regularly update your local page with images; videos, etc.
Use a local phone number instead of a call center number.
Dont's
Don't keyword stuff your business name field.
Don't stuff your description with keywords.
Don't use P.O. boxes as your business address.
Don't create more than one local page for each business location.
Don't select categories that list the products you sell, but ones that describe your business.
Don't use words that do not pass Google's local listing filter. (e.g. Brothel, Beer, Erotic, Mob, Pill, etc.)
Additional Tips
Check what type of categories your top 5 competitors have selected and use them, if relevant.
If you wish your practice local page to rank higher than the local page of the distinct practitioners (lawyers, doctors, etc.) you could leave the most relevant category for the practice listing, and select a broader yet still relevant category for the practitioners' local pages.
You are allowed to use a one word descriptor in your business title, but avoid marketing taglines, phone numbers, store codes, or URLs.
Use email account under your business domain when having troubles verifying your local page.
Citations

Do's
Ensure NAP consistency between your citations, local page and website.
Select high quality sources for your citations.
Select niche specific websites that are relevant to your industry.
Select area specific websites that are relevant to your service location .
Claim and edit all citations of your business that have a wrong or inconsistent NAP.
Remove all duplicate citations of your business from the (major) data aggregators.
Select the most relevant business category when listing your company.
Add as much useful info when creating your citations as possible (images, videos, company descriptions, etc.).
Dont's
Avoid business listing networks that automatically create multiple listings of your business in various low quality directories.
Don't put quantity before quality.
Additional Tips
Your citations could be both structured (business directories) and unstructured (newspaper articles, blog posts) ones. Diversify!
Checking the PR (Page Rank) and/or DA (Domain Authority) of a website could somewhat help you verify the quality and authority of the source.
Reviews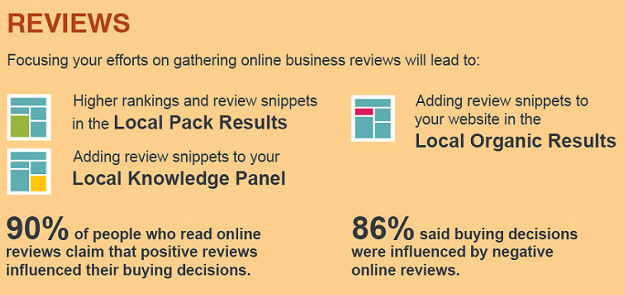 Do's
Encourage your clients to post a review on your Google local page.
After completing a project, don't forget to ask your client for a review.
Print out special handouts with visuals on how your customers could leave a review and where.
Try to attract top reviewers in your niche to review your business.
Reply to your reviews even if negative. Stay in touch with your customers.
Dont's
Don't use an on-site review station in your shop, hotel, restaurant, etc. The same IP used for leaving the reviews would be interpreted as a definite spam signal.
On the same note do not send out a newsletter with a link to your local page and a review request.
Don't create an onsite page that redirects your customers to your listing when requesting them to leave a review.
Don't offer monetary reward for a business review.
Don't ignore the problems mentioned in your negative reviews. Handle those immediately and send your feedback to the offended client.
Never indulge in writing fake reviews.
Additional Tips
Regularly email a few of your clients and ask them for a testimonial or a review on a given site or local page.
Leave a review from your business local page to a partner company of yours. They may consider reviewing you back and you'd get a valuable B2B review.
You can add a review request even on your payment receipts.
Place a banner in your shop/office saying "Find us on Yelp".
Even if it is not in your power what kind of reviews your customers write, take time to advise them to mention either your business name, or the service that they have requested, or better yet the area that you operate/they live in.
On-Site Optimization

Do's
Ensure NAP consistency with your local listing and citations.
Create location specific pages (whether one or several locations).
Create unique content for your multiple service locations.
Describe specific local sights, attractions, history, festivals, events, etc.
Include contact details, directions, working hours, where to park and towing service info.
Include photos and mention the specific location in their file names and alt attributes.
Embed a Google map associated with your local page on your location landing page or on your Contact us page (if you have a single location).
Optimize your site content, title tags, meta tags and urls for your specific location or locations.
Use schema.org to mark up your NAP, hours of operation, reviews.
Use location and a keyword in your location landing pages.
Dont's
Don't use spun content for your local specific pages.
Don't keyword stuff your website content.
Don't forget to check Your webmaster Tools account for any warning messages from Google.
Don't forget to regularly check your organic rankings and your website traffic for sudden drops that might be a sign of algorithmic penalty.
Inbound Link Profile
Do's
Get included in your local industry associations, business chamber, etc.
Pursue inbound links from bloggers who write about local news, events, etc.
Dont's
Don't pursue links from low quality websites.
Avoid keyword stuffed anchor text but rather opt  for branded anchor text instead.
Additional Tips

Ask local-based partners to link to your business website.
Interview local community members and distribute articles via social media networks.
Distribute press releases to the local news sites.
Remind organizers to list you on the event/organization page when you participate in local events, sponsor local activities, take part in local university discount programs or fund a scholarship in the local college or university.
If you'd like to view the original infographic in its entirety, click on the image below.