Last week's Search Engine Strategies conference in San Jose was the best yet. It is my third SES in San Jose and fourth total. I spoke on the Retaining Traffic After Moving Or Redesign session, a new one for this year that was very well attended.
Along with me, Paul Bruemmer, Scott Orth and Navneet Virk presented while Jennifer Laycock moderated. Jennifer I have known for a few years now but it was the first time I have had the opportunity to meet the other three although I have seen Paul Bruemmer's articles floating around throughout the years.
So what did I do, who did I see, etc., etc.?
Sunday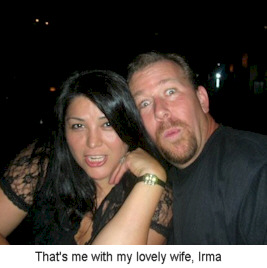 We (me and my wife, Irma) rolled in late afternoon on Sunday and attended the Bodog.com Speakers reception party held at Hotel Valencia's V Bar located on the famous Santana Row in San Jose. This was probably one of the best parties for networking and meeting up with people I know. It is the only time I have not seen Matt Cutts being mobbed by the crowds. Of course that wouldn't last for long because the Cuttlets (a term coined for Matt's fans) would hang on his every word throughout the week. Poor Matt.
I meet Todd Friesen (aka Oilman) for the first time. Also hung out with Rand Fishkin briefly whom I had met for the first time in person last year. Most of our time there was spent hanging out and listening to Daron Babin's stories which were just fabulous. With us was Matt Bailey, Jennifer Laycock and Liana Evans. Danny Sullivan showed up later along with Elisabeth Osmeloski. I saw many others that I know but cannot remember all to mention here.
They eventually kicked us out of the V Bar so we headed over to the Marriot Bar where we met up with Mike Grehan and Dan Thies. I am quite embarrassed to say that I didn't realize Dan was Dan until the following evening even though we have both moderated together at High Rankings Forum for over three years now. Sorry Dan, but you just didn't look the same as pictures I've seen of you. After closing the Marriot Bar, we all headed over to Original Joes for a late night dinner.
Monday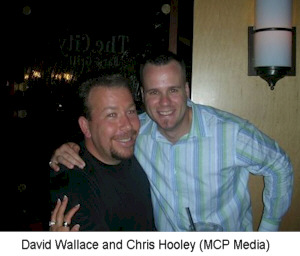 The only session I attended on Monday was the SEM Via Communities, Wikipedia & Tagging. This is a subject that I have been trying to get up to speed on and was able to get some good tips out of this session.
There were a few private parties that evening – Hitwise, Yahoo (which I failed to get an invitation to) and the Ask.com party. We attended the Ask party which was a bit drab compared to last year's party. They did have some tasty appetizers that were being passed around including asparagus wrapped with thinly cut steak.
We left there pretty early and headed over to the Hilton bar to make our own party. There we found Chris Hooley, a fellow search marketer and buddy from my own home town as well as Dan the Spam Man. That of course is not his real name but he is a black hat spammer and boy did he reveal many secrets of which I dare not write here in the public arena. A very youthful but extremely intelligent player in this field for sure.
Tuesday
I attended the Reputation Monitoring & Management session which is of interest to me having recently affected someone's reputation in a negative way. I also wanted to meet Andy Beal in person of which I did but not until later that day. It was this session that inspired my to post the Drinks For Links? write up on my blog. And guess who is currently number 1 for the phrase "drinks for links"? You guessed it – Andy.
I also attended the Lunchtime Discussion: Yahoo's New Ad Platform where Yahoo! Search Marketing demoed their new ad platform due to be released in the fourth quarter. I'll write about that in a separate post. Finally I attended the Search Algorithm Research session where I was able to meet Bill Slawski for the first time in person. What a smart guy he is. Bill is one of the only person's in our industry that really digs into patents files by search engines. He has created quite a name for himself in being able to not only decipher these legal documents but write about them in a way that those of us with less brain power can actually understand.
While touring the Expo Hall, I met fellow Small Business ideas moderator Matt McGee who was actually speaking for the first time on the Big Ideas For Small Sites & Small Budgets session. He also owns One World Telecommunications.
Tuesday night was the famous Google Dance which is always awesome to attend. Google busses conference attendees from the convention center to the Googleplex for one of the largest parties one has ever witnessed. There must have been five thousand people in attendance easy. The live band was awesome this year but the food a bit disappointing. It certainly wasn't as good as last year. They did have free booze however and all the Dove ice cream you can eat. Just yesterday, Google posted their own photos of this massive party. We actually left the party early and decided to retire to our room for a bit of relaxation.
Wednesday
The first thing taking place on Wednesday was A Conversation With Google CEO Eric Schmidt where Danny Sullivan held a sit down conversation with none other then Eric Schmidt, CEO of Google. It was very interesting indeed. Eric was very smart in the way he took on questions from Danny, making sure he represented the now public company well.
Of interest was to learn that Eric does click on AdWords, not only to see if they are working but because he buys stuff from advertisers as well. A bit of controversy as many AdSense publishers have found themselves banned by clicking on AdSense ads hosted on their own sites. They may have had the same motives, no?
I skipped the next two sessions so I can have lunch with my lovely wife at where else – Original Joes. I think we ate there a total of three times. I just can't get enough of their meatballs. They're the best!
After lunch we both went to the Exhibit Hall so my wife could sign in for the WeRLive car giveaway. They wouldn't let me sign up for a chance to win the car because I'm a speaker. How lame. I could be a potential customer of theirs, couldn't I? So, no link love for them here in this post. Irma didn't win either but it would have been cool to drive back to Arizona in the little Pontiac Solstice they were giving away.
We walked through all the booths, conversing with friends which included David Warmuz and the guys from Trellian, Daron and Brandy from WebmasterRadio.fm, Robert Barger from GoGuides.org and watching a cool magician from the booth next to Trellian (sorry don't remember the company).
Then it was on to the Link Baiting & Viral Search Success session of which I'm to write an article on for SearchDay in the very near future. Watch out for it. Finally I had to see the Pimp My Site! session. I had always heard that this was one of the most lively sessions at SES and boy is it. Dax Herrera makes the session with his pimping outfit and pimp lingo. If he wasn't an SEO, he could have been a comedian for sure!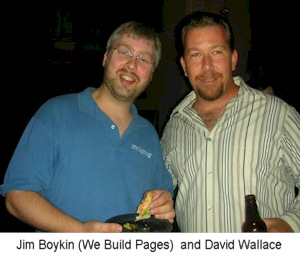 The nighttime brought SearchBash at Studio 8 put on by Webmasterradio.fm and sponsored by a handful of companies that were at the event. Free drinks, loud music and summo wrestling. real summos? Not quite but anyone could put on a summo suit and wrestle with someone else. It was hilarious. I met Jim Boykin for the first time in person. Hopefully if he ever snaps a picture of me, he won't write in something like, "I can't remember who this guy is."
Thursday
The last day of the conference. The only session I went to is the one I was speaking on. Our session went very well. The room was near full and when querying the audience as to how many people were actually in the process of a site redesign (the sessions topic), almost every hand went up. We even had a gal from Yahoo! Search Marketing in the audience learning how to successfully rebrand move on from the Overture brand.
As soon as my session was over, we headed up to San Francisco, our normal routine after SES in San Jose. This year we really tried to stay away from the tourist traps as far as eating and sightseeing goes. That evening we ate at an awesome soul food place called Farmer Brown's. The food was incredible as well as the live band that was playing. Their pecan-cornbread stuffing is probably the best stuffing I have ever tasted in my life.
The Weekend
Friday we went to Marine World. I really didn't want to go to an amusement park while in San Francisco but my wife won discount tickets on eBay so why not increase the coaster count. Five coasters and now I am up to 88 unique coasters I have rode all over the country.
After we left marine World, we headed up to Napa to meet up with a client of ours whose family owns the Stags Leap Winery. My contact is Stephen Winiarski. who himself owns Ventana Windsports, the site we actually market for him on the search engines. We did a wine barter for some design work I had done on his site. I scored a bottle of the Fay Cabernet Sauvignon as well as four bottles of the Artemis Cabernet Sauvignon and one bottle of the Savion Blanc. Two of the Artemis are already gone which were just absolutely wonderful. That evening we dined in an offbeat Italian restaurant. Not a very good part of the city but wonderful food.
On Saturday we walked around Union Square and Chinatown. We had a small lunch at another Italian restaurant in North Beach and then in the evening went to my brother in law's new house in a neighborhood by Golden State Park. We dined at a fabulous Thai restaurant that evening called Sukhothai Thai. I'd link to their web site but I couldn't find that they had one.
All in all another great trip. Met lots of new faces as well as revisited some old ones. Next one up is Chicago in December. Hopefully the panel I spoke on will return but either way, I'll be there.