I'm two days back from the first Small Business Marketing Unleashed conference and I have to say that this was probably one of the best conference I have ever been to. The conference attracted right around 50 paid attendees which made for a very intimate setting. Speakers and those of who were live blogging were able to spend some real quality time with attendees. The information that was presented in sessions and workshops was of the highest quality and the food served up set the bar high for any other conference to follow.
I had the privilege of live blogging sessions and workshops presented by Stoney deGeyter, Wendy Piersal, Christine Churchill, Debra O'Neil Mastaler, Matt McGee and Matt Bailey. There was also plenty of ample time to network and hang out with a charity networking event held prior to conference, a Mexican fiesta dinner generously sponsored by Search Influence, great lunches held in the conference center's "The Log Inn," and on the final night, food brought in from Robert Clough's favorite Italian restaurant.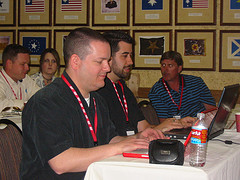 One of the more interesting elements about this conference was the location it was held in – Northwest Forest Conference Center, located just outside Houston in Cypress, Texas. It is settled on 80 gorgeous rural acres and provides a unique balance of rustic charm, natural beauty and first-class amenities. Their one-of-a-kind facilities and stunning scenery make for the perfect location to blend business with relaxation. The sessions and workshops themselves were held in an authentic replica of the historic Alamo.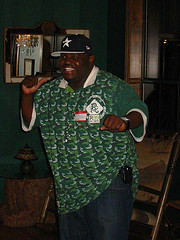 The feedback that I received from those who had paid to attend this event was that it was first class and that they had learned a wealth of practical information that they were looking forward to implementing into their businesses. I can't wait for the next one (yes there will be more) which I hope Robert and Jennifer will not wait another year to hold.
Besides reuniting with many friends I have known for years, I'd like to shout out to some new friends and colleagues I was privileged to meet. This list includes Will Scott of Search Influence, Chad Everett of Everitz Consulting, Kelsey Ruger of Pop Labs, Christine Novosielski of Web Tech Tools, Ryan Freeman of Strider, Scott Allen of Hybrid 6 Studios and last but not least, Karen Lea Stebbins of Brainwaves, who by the way was on the same plane with me as I flew back to Phoenix.
To see photos from the event, be sure to check out my Flickr feed entitled "Small Business Marketing Unleashed 2008."
So, if you are a small business owner looking to get an edge over your competition in the area of online marketing, I highly recommend the next SBM Unleashed conference. I'm not sure where it will be held but I do know for certain that one will be held. Keep an eye on the Small Business Marketing Unleashed site for future announcements.