Social Media Marketing
Facebook, Google+, Twitter, Pinterest & More
Social Media Defined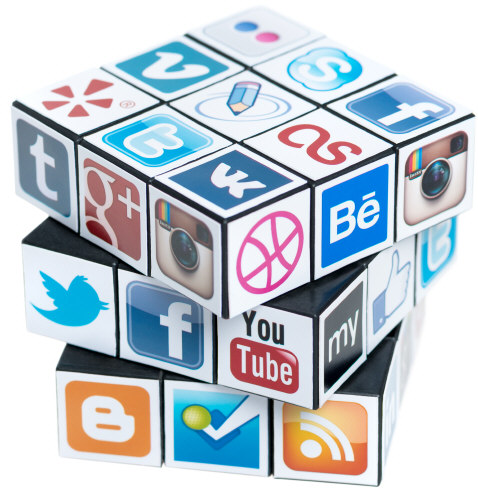 What is "social media" or "social networking" in relation to the Internet? It is essentially any site that has functionality where a user can socialize and interact with others. The ability to network online with individuals, join special groups of interest, comment on specific content, products or services, and upload or generate your own content are just a few of the characteristics of social media and networking sites. Some of the most popular sites include Twitter, Facebook, Instagram, LinkedIn, Google+, Pinterest and YouTube. However, it does not stop there as the list of social media sites is nearly endless with new ones coming on board all the time.
In similar fashion to search, social media and networking sites offer companies both large and small new ways to attract business as well as interact with existing customers. There are opportunities to build your brand, attract and convert new customers, network with other businesses in your niche, interact with the public at large and even help manage your company's online reputation.
What We Can Do For You
Whether you need full management or some simple "hands-holding," we can help you determine which social media sites will most benefit your particular style of business and define the specific goals you want to obtain from a social media marketing effort. The benefits that are derived from a social media marketing campaign will depend largely on the industry you are in as well as the specific marketing goals that are laid out. We will work closely with you to develop the very best strategy for taking advantage of all that social media and networking sites can offer.
Social Media Promotion
You've developed and released what you feel is a great piece of content, but now what? You publish on your site and cross your fingers hoping that people will come. But often times they do not. This is where social media promotion plays a crucial role. Tapping into the user bases of social media giants such as Facebook, Twitter, Pinterest and others, provides an even greater opportunity for your infographic to succeed.
Design
It all starts by creating a great piece of content. If you already developing good content, great! If not, we can help with our professional content marketing services.
Publish
Once your content is ready for the world to see, it should be published on your site. If needed, our team can help make sure your content is optimized for SEO best practices.
Promotion
We leverage power user accounts of social media sites to promote your content. As these users share with their followers, a natural sharing process follows suit.
Success
After a few weeks of allowing the social media push to mature, we will provide a report that provides details of the campaign's performance including backlinks, social media shares and more.
Social Signals
A mention or share on a social media site is a "social signal." Search engines look for these social signals as a sign of trust and authority which in turn can greatly help your organic search visibility (SEO).
Inbound Links
With Google's ongoing crack-down on "forced" link building (unnatural links), content marketing is a great way to acquire the natural inbound links that search engines do factor in to their ranking algorithms.
Traffic / Branding
Content that is well received can drive a huge spike of traffic and in the long run, build brand awareness and loyalty. Good content can also have a long shelf life and deliver traffic for years after they are published.
Traffic / Branding
Great content can place your brand in front of people who may have never heard of you before. When shared socially, drive traffic that brings awareness to your brand, especially if you publish content on a regular basis.
We are currently able to conduct promotions on 3 social media platforms. These include Facebook, Pinterest, and Twitter. We can also conduct promotions on Reddit but only for certain types of content.
Single Network
One of these – Facebook, Pinterest, or Twitter.
3 Networks (Best Value)
Save $50 when you do all 3 networks – Facebook, Pinterest, & Twitter.
Reddit
Content must be conclusive to Reddit environment.
Our relationship with SearchRank has been a great asset as we've worked to grow our site. Their attention to detail and approach to helping us achieve our goals has produced fantastic results. For our site, we are interested in more than just traffic. We want visitors who become subscribers and members. With SearchRank's help, our newsletter and RSS subscriber numbers have grown steadily. We are currently showing over 40,000 pages indexed by the major search engines. And our forum membership now exceeds 13,000 registered members.
Knowing SearchRank is keeping watch over our search engine optimization allows me to focus my attention on our members where it belongs. I highly recommend SearchRank for anyone looking for a search marketing firm.
Get a Quote On Social Media Marketing?
Are you interested in discussing social media marketing opportunities or have additional questions not answered here?
Contact us today for a free, no obligation analysis of your project.