Late Monday afternoon, Irma and myself are headed back to Phoenix after another great trip to the Bay Area for this year's Search Engine Strategies in San Jose. We will miss the wonderful weather as we go from a cool 70 some degrees back to 100 plus. Of course we will miss being in the presence of our search marketing friends and colleagues but do welcome the comfort of home and of course re-joining our children (and pets) after being away for over a week.
Unbelievably, we took to the air 4 minutes before our scheduled time on US Airways Flight # 596. The last three times I flew this airline, I have have experienced delays of no less than one hour each time. There was even one time our departing gate was changed where we had to walk from one end of Terminal 4 in Sky Harbor Airport to another. Therefore I had to check to make sure my watch wasn't malfunctioning when the captain said we were clear for take-off in advance of our scheduled time.
The conference was the largest to date – right around 7,000 attendees. This was evident at the Google Dance where it seemed like New Orleans Square at Disneyland on a crowded summer day – a shoulder to shoulder mass of people. Honestly I don't know how they do it – that is provide booze, food and fun to so many people. Maybe it has something to do with the fact that their stock is currently valued at around $500 a share?
We rolled in on Sunday where we met my wife's brother and his friend. We immediately headed over to Original Joes's only to find that it was closed for remodeling. What! That was one of the main reason's for coming to the conference. Oh and also for the fact that I was speaking. But seriously, they have some of the best meatballs you have ever tasted.
Instead we headed the famous Santana Row where we dined at Maggiano's Little Italy. We then strolled around for a while before heading back to the Fairmont where we were staying.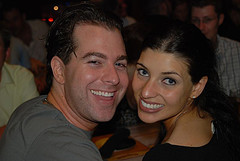 After we bid my brother in law and his friend farewell, we headed over to Gordon Biersch where Li Evans had arranged a small gathering of search marketers for dinner and drinks. Small gathering, right! What started out as around 15 people ended up being over 70! In fact we occupied an entire upper room. Here we finally met Chris Winfield and his wife Danielle for the first time. Irma and Danielle hit it off well.
We then headed over to the Marriott bar where we ran into our dear friend, Matt McGee who had brought along a co-worker named Darcy with him on this trip. We of course ran into many other friends, in fact too many to mention here. We thought we'd call it an early night (around midnight) and decided to head back to the Fairmont only to find a mass of friends gathered at the Fairmont bar. To make a long story short, we ended up going to bed after 3am in the morning. Chris Hooley and Frank Watson (aka Aussiewebmaster) kept the party going with rounds of shots and champagne. Thanks fellas.
Back up around 7:30am (ouch) to register and live blog two sessions for Search Engine Roundtable. I covered "Search Term Research and Targeting" and "Benchmarking An SEM Campaign" the first day with three to follow in the next three days.
Irma attended her first "Women's Luncheon at SES San Jose," again arranged by Li Evans with some sixty plus ladies involved in search marketing gathered for lunch and socializing.
We returned to Gordon Biersch for dinner that night along with Matt McGee and Darcy, Stoney Degeyter and two of his staff, Benjamin Lloyd, Scott Orth and a couple of other guys of whom I can't recall their names. One of them looked a lot like a younger version of Jerry Seinfeld (I did not just say that, did I?). I don't remember much more about Monday except that I was extremely exhausted from lack of sleep due to Sunday's festivities. In fact, we hit the sack right around 10pm that night – a definite early night for SES.
The next day I was to cover two additional sessions for Search Engine Roundtable – "Web Analytics and Measuring Success" and "Fun with Dynamic Web Sites." I also attended and took notes on the keynote with Ask's Jim Lanzone.
However, the highlight of this day was attending a private luncheon for Search Engine Guide bloggers and Small Business Forum Ideas moderators where we met Robert Clough, founder of bother sites, for the very first time. In fact, no one had ever met Robert in person with the exception of Linda Riley who is Editor of his Small Business Brief web property. Even Jennifer Laycock who has worked for Robert for over four years now had never met him face to face.
The whole scenario reminded me of Charlie in the 1970 television series, Charlie's Angels, where you would hear his voice, even see the back of his head, but never see his face. Well, I'm hear to tell you that Robert is a real person and one of the nicest I've ever met.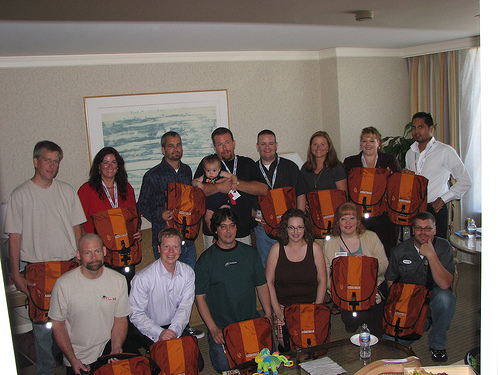 Back row, right to left – Chris Logan, Kim Krause Berg, Dan Robbins, me (David Wallace) holding Emmitt Laycock, Matt McGee, Debra Mastaler, Li Evans and Manoj Jasra. Front row, right to left – Robert Clough, Matt Bailey, Bill Slawski, Jennifer Laycock, Diane Aull and Stoney DeGeyter.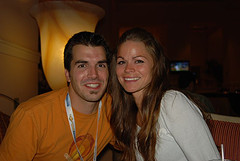 That evening we attended our fourth Google Dance which was great as usual but more crowded than I've ever seen it. We could only stand the crowd's until a little after 9pm when we decided the head back to the hotel. Irma and I thought we'd take it easy that night as well due to the fact that I had to speak the next day and WebmasterRadio.fm's SearchBash would be held.
After going up to our room to relax for a bit, we thought we'd go down to the Fairmont lounge for one quick drink. At first, we did not see anyone recognizable. Then Cameron Olthuis and his wife, Amy joined us where we got further acquainted for the next few hours. What a lovely young couple they are.
I did not cover any sessions Wednesday with the exception of attending the keynote conversation with Google's Marisa Mayer. My session was held at 1:30 pm where I spoke on the subject of "So You Want To Be a Search Marketer?" where I had the privilege of speaking with Michael Gray (aka Graywolf) as well as three other search marketers.
Misty Locke from Range Online moderated the session. When I practiced my presentation in the hotel in front of my wife, it was terrible. However, I did tell her that the dynamics would be different in front of a live audience and asked her to sit in the back where I couldn't see her facial expressions as she'd most likely make me nervous. The live session went much better in which my wife told me I did an exceptional job. I hope those that attended the session thought so as well.
Now that I had completed my one speaking gig and the pressure was off, it was time to do some late lunch (I had not eaten anything up to this point in the day). We discovered a lovely little place behind our hotel called Asqew. They serve up a variety of deliciously prepared meats along with veggies on skewers. I don't know if the eatery was there during last year's SES but if it is there next year and we attend SES, it will definitely be a repeat.
That evening we attended the WenmasterRadio.fm SearchBash which was held in the Vivid Night Club just a few blocks away from the conference center. The usual crowd of SEM people were in attendance as well as Marilyn Monroe and Sammy David Jr., oh and the guy can't seem to hold his liquor and that falls asleep in the booth every year.
We ended the evening back at the Fairmont lounge of course where we hung out with many of the same crowd we had been with all week long.
On the final day of the conference, I live blogged one final session – "Meet the Crawlers" where I cornered Peter Linsley from Ask after the session to inquire if they were working to keep their index fresher as the other three engines already do. He said they were but could give me no definite timeline as to when we would see that come to realization.
A few people we met that I knew "online" but have never met in the "real world" include Patrick Schaber (aka the lonely marketer), Chris Logan, Diane Aull (aka Torka) and Gillian Muessig (Rand Fishkin's mother) who was extremely fun to talk with as she is so charming and open. Now we know where Rand gets his charm.
As soon as I finished covering the second of three sessions on Thursday, Irma and myself caught a cab and headed to the rental car facility at the airport where we proceeded to rent a car and drive up to Napa.
We stayed at a cozy little cottage called The Maple Cottage for the next two nights. The following day we hit several wineries along Napa's Silverado Trail including Baldacci Family Vineyards, Chimney Rock, Hagafen Cellars, Silverado Vineyards, Stags Leap, and last but certainly not least, Reynolds's Family Winery where we were treated to a tour by owner, Steve Reynolds himself.
On Saturday we said goodbye to our little cottage in order to spend the last two days of our trip in San Francisco but not before stopping at Viansa, a place you definitely have to visit if you are ever in the wine country region and love wine.
This year we stayed at Kensington Park Hotel which we enjoyed very much.
Our hotel had a theatre on the second floor in which a Broadway style musical called Blues in the Night was playing. We decided to see the show after meeting one of the musicians from "The Band" in the elevator who had invited us. It was an absolutely wonderful play that I'd highly recommend.
During our brief stay we dined at Farmer Brown, The Stinking Rose and a wonderful little Italian restaurant located in North beach called Trattoria Pinocchio. On Monday just before heading over the Bay bridge to the Oakland Airport to catch our flight, we took the opportunity to drive around the city where we drove the Lombard Crooked Street, then down California to the Pacific Coast, then through Golden Gate Park before heading back east.
Well that wraps up this trip report. I still need to get our photos up on our Flickr account. Maybe tomorrow as I'm still digging out from being gone from the office for over a week.
Photos courtesy of Matt McGee and Li Evans.