Not related to search in anyway but simply wanted to announce that I'll be off next week on my annual roller coaster trip. We will be hitting six separate amusement parks in just six days.
Our travels will take us to five U.S. states as well as Montréal, Canada. There will be opportunity to ride 33 roller coasters ranging from woodies, steel, kiddies (they add to coaster count) and even a bobsled coaster. This will push me past the 100 mark to a total of 121 individual coasters.
Here is a list of the parks we will hit:
I am traveling with my friend, Gary Kyriazi, who writes for Park World Magazine. He will be conducting several interviews which allows us to gain comps to each park as well as receive the media treatment.
The wooden coasters are always a favorite. Notable for this trip are Thunderbolt which has been operating since 1941, Yankee Cannonball which has been operating since 1936 and the 80 year old Wildcat which has been operating since 1927.
I am also looking forward to Superman – The Ride of Steel as it supposed to be as good or better than Millennium Force, my favorite steel coaster. I don't know though as it is going to be hard to beat the 300 foot initial drop at an 80 degree angle that Millennium Force delivers as well as its almost constant 93 mph speeds throughout the ride. What looks freaky about Superman – The Ride of Steel is that it throws you into a tunnel in the ground after the initial drop (see picture below). Yikes!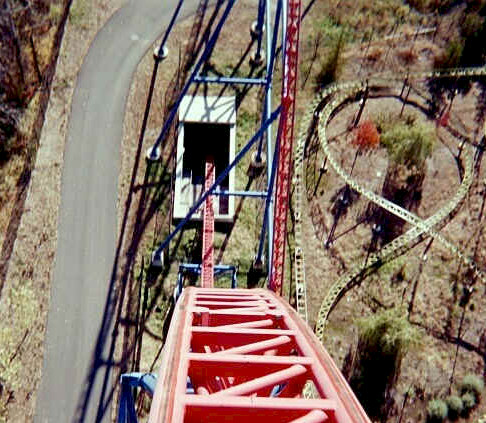 While I will have a laptop with me, blogging activity next week may be dismal unless I somehow get inspired to write something related to search or online marketing while riding coasters or if something really newsworthy happens such as "Google buying Yahoo!, MSN and Ask, Wiping Out All the Competition." 😉