One can pretty much assume that if someone steals your copy, they are not too bright. The content thief is not intelligent enough to write or develop something on their own so they pilfer someone's else's hard work. However there are some that are in a class all by themselves.
Not only are they too stupid to write their own content, they neglect to remove references to the place where they originally stole the content. Here is a prime example which was found at http://www.uniqmediaonline.com/google-adwords.html (sorry, not going to link directly).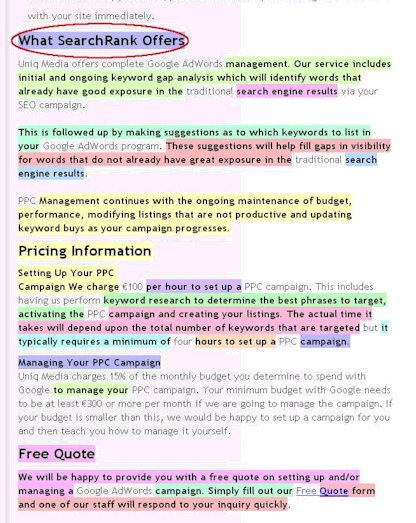 Typically I'd send this company who apparently is called Uniq Media a cease and desist but they are located in Spain. I could go through the process of notifying their web host, contacting the search engines, etc., etc., to get the content removed but I just don't feel like going through the effort for a foreign company. We do take actions against U.S. companies. In this case, I simply decided to blog about it.
This is not the first and unfortunately it will not be the last time I will see this. I have to wonder what their potential clients think when they read copy on their sites but see another companies name included within. Certainly can't be good for business.