The power of the consumer is stronger than ever. Blame the Internet. With blogs, review sites and even Twitter, consumers can damage your brand's reputation very easily. While sometimes a brand deserves a bad rap, other times it is simply a mis-understanding. At any rate, if you are a business owner, PR person or a brand manager, you will want to arm yourself with the necessary tools and strategies that will help you to protect your brand online.
In this post, I will look at some (not all) of the methods and tools available to monitor online reputation for names, brands and even specific keywords and phrases.
Google Alerts
Google Alerts are email updates of the latest relevant Google results (web, news, etc.) based on your choice of query or topic. You can also if you prefer, set up Google Alerts as a feed and then add it to your favorite RSS reader.
Google Alerts can be set up in five easy steps.
1. Select your term.

2. Select source including news, blogs, web, comprehensive, video & groups.

3. Choose how often you want to receive alerts including "as-it-happens," "once a day," and "once a week."

4. You have the option of receiving 10 or 50 results at a time.

5. Finally select delivery option.

Here is what an email Alert might look like: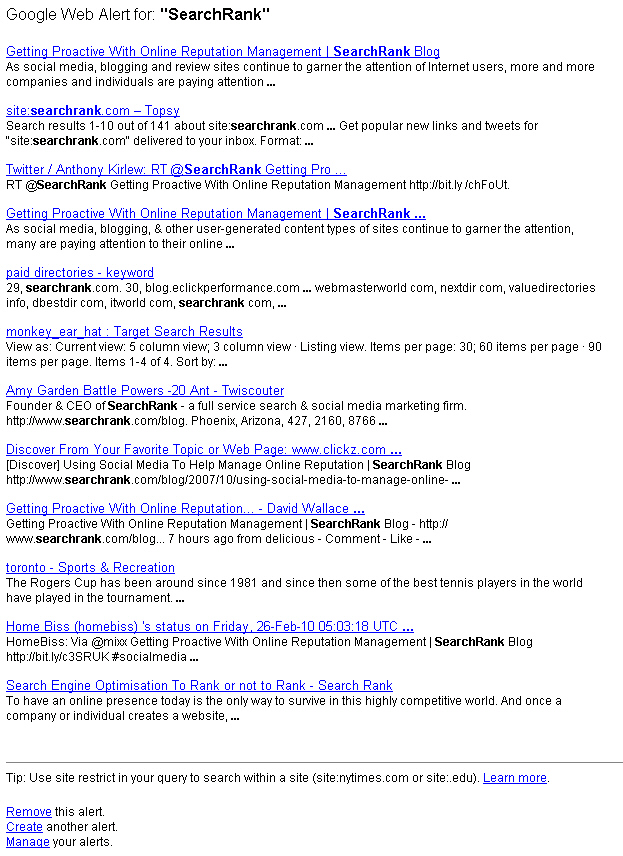 Google Alerts is a great way to monitor what is being said on Google about your company name, your brands or even your individual name. Best of all, it's completely free!
However, if you want to monitor your online reputation across multiple online media including blogs, news sites, social media, etc., you are going to need something more robust.
Trackur
Trackur is an online reputation & social media monitoring tool designed to assist in tracking what is said about you or your company on the internet. The online tool scans hundreds of millions of web pages, including news, blogs, video, images, and forums, and lets you know if it discovers anything that matches the keywords you put into it.
Using sophisticated social media monitoring and filtering technology, Trackur is like an online reputation guardian. It does the heavy-lifting for you so you don't have to.
Trackur offers four pricing levels from the "Personal" level at $18/mo up to the "Agency" level at $297/mo. All levels are include a full list of features with the exception of the "Corporate" level which additionally allows you to submit your own feeds and group by profiles and the "Agency" level which goes a step further co-branded dashboards, URLs and client log-ins.
To get started, simply enter the search term in the "Enter a Keyword" filed and then if you like, utilize additional filters including:

Exatch Match – Select if you want Trackur to search exact phrase.

Must Include – For example if you are searching "Apple" and only want to see results that include "iPhone" you would enter that in this filed.

Does Not Include – Searching "Apple" again, you can exclude any listings that contain the word "iPhone" or any others for that matter.

Exclude Domains – If I'm searching for my "SearchRank" brand name, I can exclude any listings from the searchrank.com site by adding that domain to this field.

Advanced Search – This allows me to select the source of results such as News/Blogs, Videos/Images, Twitter or my own custom feeds.

Save To Search List – Allows you to save your search criteria to a list. The number of "saved" searches allowed will depend on your account level.
Besides the normal operations you'd expect from an online reputation monitoring tool, one of Trackur's cool features is the "comprehensive details" it provides about each listing. See at a glance the title, source, publish date, and summary of each item discovered by Trackur.

Another useful feature is the ability to view the influence of each listing. It's one thing to monitor what's being said about you, but just how influential is that blog or news site? With Their proprietary TrackurRank, you can better understand the influence and audience reach of those discussing your brand.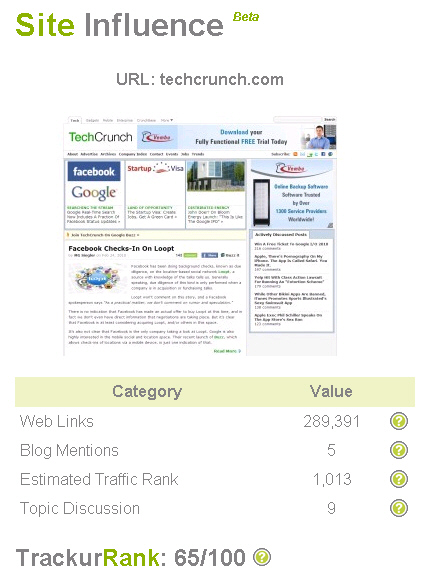 They offer a 14 day trial that will allow you to test drive the application. And if $18 a month is beyond your budget, how about a free option? That's right – Trackur just recently release a free version of their product. It is essentially the same as the "Personal" and Corporate" levels with the exception that you can only have one saved search.
Reputation Defender
Reputation Defender offers four separate products dealing with online reputation as well as privacy issues. MyReputation is one of those tools which essentially searches the web for references to you, your company and brand names. Subscription to the tool runs $14.95/mo. They also offer additional service to remove negative listings for a fee.
Additional tools in their portfolio  include MyChild – a tool that scours the Internet for all references to your child or teen – by name, photograph, screen name, or social network profiles, MyEdge – a tool that claims to help control search results, and MyPrivacy – a tool that finds and removes personal information that is collected on you.
BrandsEye
BrandsEye not only traces and assesses your online presence but provides you with a real-time Reputation Score for both you and your competitors. This allows companies to monitor the sentiments and opinions of their own customers, while making educated judgments about how to respond to attacks on their online reputation.
BrandsEye has three levels of subscription ranging from just $1/mo. to $350/mo.
Radian6
The Radian6 flexible dashboard enables monitoring all forms of social media with real-time, relevant results. Smoothly uncover influencers, track and measure engagement and determine which conversations are having an impact online.
Whereas some of the other tools I've mentioned thus so far are more akin to online monitoring, Radian6 provides analytical data and metrics that will helps its users to actually engage social media and measure performance. Although I have not personally used it, it appears to be a very robust platform full of features that will help you to not only monitor but get involved as well as learn exactly what works and what does not.
Radian6 pricing starts at $500 per month, per profile for up to 10,000 net new monthly results (individual posts that match your overall profile keywords), and $100 per month, per user ID. They charge based on monthly volume of results, not keywords or individual subjects, so you can include as many relevant and related search terms as you like within each profile.
Monitoring Twitter – Methods
Twitter has become much more than a micro-blogging / instant messaging / chat room / guess what I'm doing right now / whatever else you think about it to a place where people converse about just any subject in real time. Almost all breaking news from the US Airways flight that crashed in the Hudson to the latest California earthquake hit the Twitter airways long before the major news and media outlets pick them up. In the same manner, Twitter users are discussing people, companies, products and services as well – both good and bad. This is why it has become essential for PR people and brand managers to pay attention to what is being said about their brands on Twitter.
@ Tab on Twitter
If you simply want to monitor references to your Twitter user name, the @ tab on Twitter.com or the @ reply function (if using third party application to utilize Twitter) will show every tweet that responds to you or mentions you. This can be especially useful in being able to respond directly with tweeples (a name for Twitter users). This of course is dependent on whether or not your user name is closely associated with your real name or one of your brand names (e.g., @Starbucks, @Pepsi, @Google).
Twitter Search RSS Feeds
One of the easiest ways to monitor a particular keyword, brand or product name is to conduct a search at Twitter Search (search.twitter.com) and then click on the RSS feed for that search query which is located at the very top of the right sidebar (example below) and add it to your RSS reader such as Google reader, Bloglines or other.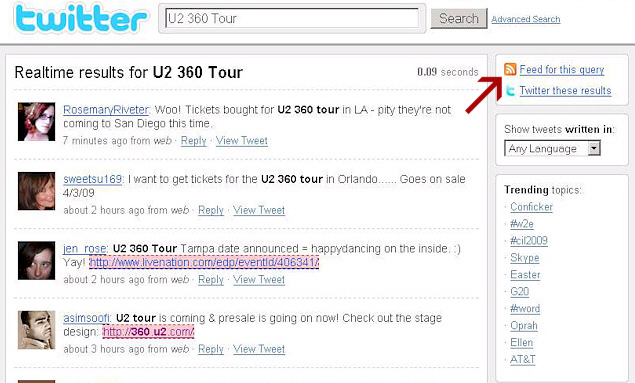 Monitoring Twitter – Tools
TweetDeck – This is is a realtime application that allows users to monitor information in a single concise view. It integrates services from Twitter, Facebook, MySpace and LinkedIn. Because mass of tweets can be somewhat overwhelming and difficult to digest, TweetDeck separates itself from other third party Twitter applications by allowing users to split their main Twitter feed (All Friends) into columns allowing a broader overview of tweets.
Grouping friends or work colleagues separately means you have a window on all aspects of your Twitter life. Searching across the Twittersphere means you can monitor any subject within Twitter. These additional columns automatically update so providing the user with a very effective dashboard of realtime information.
One could just as easily do this for a specific keyword, keyword phrase or brand/product name.
Sideline – Sideline is an Adobe® AIR™ desktop application built with the Yahoo! User Interface Library (YUI). It displays real-time mentions of specific keywords, brands, or names and is capable of custom search groups, advanced queries, and refreshes the application with new mentions automatically.
The Yahoo Sideline project seems to have grown out of an internal project over at Yahoo, the goal of which was to create a desktop application that utilized Twitter, would be compatible with Mac OS X, Windows, and Linux with minimal work, and didn't require learning new programming languages.
Bobby Kircher was one of those who responded to my Twitter poll related to this subject who uses Sideline.
Monitter – Monitter lets you "monitter" the Twitter world for a set of keywords and watch what people are saying… in real time. Just type three words into the three search boxes displayed on the site's home page (where it says 'monitter' now..) and within seconds you'll start seeing relevant tweets streaming live.
They also offer a widget that you can install on your site.
I could see this tool being useful if you needed to monitor a current conversation on Twitter. For example, Jet Blue may have found this tool useful to monitor what conversations were taking place when they had passengers stuck on the tarmac for hours and hours on end back in 2007. I could also see companies monitoring conversations in real time when they announce a special offering or possibly an acquisition of some sort.
BackTweets – Very simply, BackTweets allow you to enter any domain and see how many times it has been "linked" to within the Twitter world. While any decent backlinks checker may do the same thing, this tool narrows it down to Twitter and can help you to see how often twitter users are linking to your sites.
TweetBeep – This tool is like Google Alerts for Twitter. TweetBeep allows you to keep track of conversations that mention you, your products, or your company, with hourly updates. You can even keep track of who's tweeting your website or blog, even if they use a shortened URL (e.g., tinyurl.com).
Responding To The Negative
I am reminded of a funny story that took place during the Superbowl where the Arizona Cardinals were playing the Pittsburgh Steelers. I was sitting on th couch watching the game and tweeting random stuff on my Blackberry. Somewhere in the first quarter, after seeing a handful of the $3 million commercials that were being aired, I tweeted the following: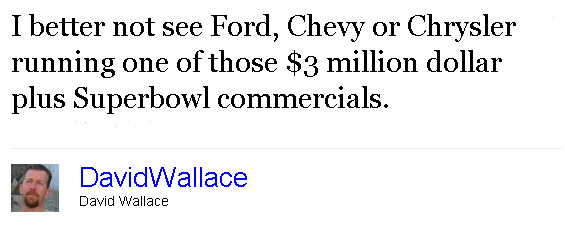 It couldn't have been 30 seconds later I get the following response: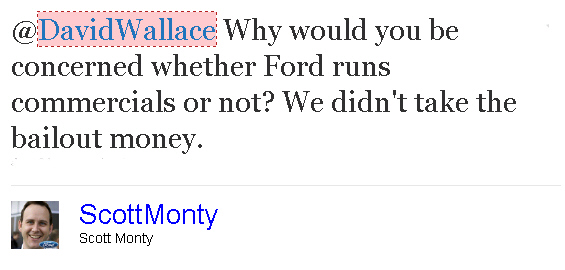 At first I though, "Who the hell is Scott Monty?" I come to find out that Scott is head of social media at Ford and obviously part of his duties is to monitor Ford's brand. The thing that impressed me is that Scott is not following me on Twitter. He doesn't even know me. He is however following any mentions of Ford on Twitter and even more impressive is the fact that he caught my statement and responded to it during the Superbowl. This is a fine example of how to monitor your brand and respond when something negative is said about it.
I corrected my tweet and said that "I better not see Chevy or Chrysler run one of those $3 million dollar plus Superbowl commercials."
So what to do when something negative shows up in the search results?
Engage and Resolve
While I personally have never been the victim of a bad online reputation, I have caused a few in my time. One such case occurred shortly after my son wrecked his 1968 Ford Mustang at no fault of his own. We took the car to a local body shop that I had heard good things about. Long story short, they did not do a good job fixing the damage. The drivers side fender which had been damaged did not line up properly as well as the headlight cowl. They said it was due to the fact that the insurance company would not allow them to buy American made parts so they had to buy Chinese crap and did their best to "make it look right." I told them I did not buy that excuse and demanded that they fix it correctly.
They had the car another week and it still looked the same. After realizing I was not going to get any further with them (because they didn't give a damn), I told them they should at least eat the $500 deductible I had to pay. They wouldn't so I wrote about my horrible experience with them on my personal blog. A few months later the owner was 'googleing" his company name and alas my post ranked number one.
He immediately contacted me to see if we could get the car back in to repair it correctly to which I informed him that we had since sold the car. he then wanted to know what we could to to make the post "disappear." I said that I wanted my $500 I paid as the deductible back. I felt it was the least they could do as they did a horrible job fixing the car. He then offered half to which I replied, "no thanks." He then hung up on me.
Two weeks later he called back and said he would comply with my wishes. He had most likely contacted a attorney in the meantime and discovered that he couldn't do anything about my post, at least legally. Freedom of speech and all. So I collected a check for $500, signed a statement saying I would remove the post and noit write anything like that again and the post disappeared.
As a unhappy customer, I had every right to tells others about my experience with this body shop. They did the right thing by engaging me and resolving our differences. So if a negative review is the result of something that can be resolved, by all means try to resolve it first.
Pushing Down Negative Results
In the scenario where it is not possible to resolve a dispute, an alternative measure is to work to push the negative result down so that at the very least it doesn't appear on the first page of results. Due to the fact that the majority of searchers never venture past the first page of results, having a negative listing on the 2nd or even 3rd page is not as bad as having it on the first. Ideally it is best to push negative listings to the 4th page or even further.
This will take a combination of good SEO for your own sites as well as trying to get other sites or web pages to show up ahead of the negative listings. I'm not going to go into detail here on how to accomplish that but did write a previous post entitled "Getting Proactive With Online Reputation Management" that will explain how to accomplish this.
Legal Action
In cases where the negative listing is slanderous and libel, you might have to take legal action. A nice "cease and desist" from an actual attorney may do the trick most of the time. Lawyers scare the hell out of people. However in cases where you are dealing with a fearless consumer, suing them in court may be the only resolve.
Conclusion
Once you understand the power that consumers have today with the Internet, you are far the more wiser and can begin to select the best tools and methods to monitor your brand's reputation as well as devising strategy to deal with cases where your brand gets tarnished. While this post does not serve to be an all-inclusive manual on the subject, hopefully it will arm you with enough advice to at least steer you in the right direction.