Earlier this month, Mike Blumenthal put decided to put together an awards contest to find the funniest search engine marketing posts of 2007. Our post, "10 Signs That You May Be a Blog Addict," published in April of this year made the initial nomination list and now has made its way into the top ten.
As such, we are able to display the following badge: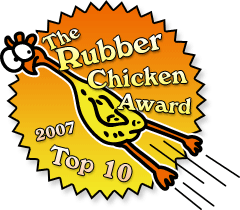 I am honored to have made it into the top ten finalists as there was so many great humorous posts published in 2007 including one of my all time favorites, "Top 21 Signs You Need a Break From SEO (2007 version)."
Now they are looking to decide who earns the number one spot. The judges will once again review these and make a final determination as to just how rank they are. You can influence their decision by voting in the People's Choice Awards for the Top Humor Article of 2007. If you liked ours, be sure to give it a "5" as that indicates the highest score for humor.
The official winners and the People's Choice Awards will be announced on Search Engine Land around the end of the year.
Postscript: Matt McGee's post, "Top 21 Signs You Need a Break From SEO (2007 version), ended up wining, and deservedly so. We did end up as runner up or tied for second with a few other posts. I have proudly displayed our runner-up badge on the original post.