I love Twitter. I have become quite accustomed to having TwitterFox beeping out sounds of updated tweets (what us Twitter users call posts) as I click on its icon to see what they are. It has been great to keep up with what friends and colleagues are doing in their daily lives.
Twitter has also been very useful in asking questions or learning about other people's opinions. It has been a handy tool for online discussion. It has even made it quite easy to post links of interest or ask fellow Twitter users to vote up a social news submission on sites like Digg, Mixx and Sphinn.
Lately, Twitter has been falling short in meeting the needs of our relationship. Anyone that uses Twitter regularly has noticed that from time to time the service has lagged or even gone down.
However, it has been happening much more frequently. In fact, Twitter has been down or suffered technical problems over the last 5 days in a row. Okay, I wasn't online much over the weekend but Friday, Monday and today, Twitter has gone down. In fact, this is the screen I saw just before writing this post: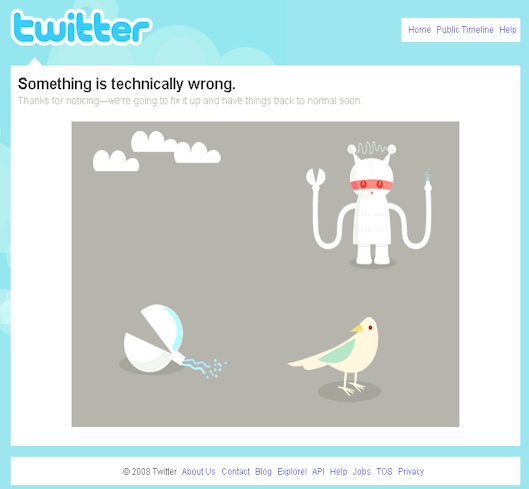 Twitter – we need to talk. If you are going to keep me as a loyal user, you need to be dependable and even faithful to be there when I need you. Haven't I always been faithful to use you on a consistent basis? Do not my almost 1,200 posts at the time I write this prove that? I have even been a faithful brand evangelist for you, telling people how great you are, while shunning poor Pownce and Jaiku in the process (see – I didn't even link to them).
Be that as it may, I cannot continue to tolerate daily outages. It is tainting our relationship. What can we do about it?
I know some would argue that Twitter is a free service and has yet to monetize itself so why am I complaining. However, I'd point out the $20 million you raised in April. Was this not sufficient to increase your computing power or whatever else you need to do to accommodate the growth you have experienced? Maybe you need to display some ads to keep the lights on. I'm fine with that – hell, I'll even click on them once in awhile.
I really hope we can work this out, Twitter. I don't want to have to go to Pownce, Jaiku or even some other micro-blogging/chat/IM service. Tell me what we need to do. I am listening (we all are). 😉